Watch: Virat Kohli Refuses To Take Extra Runs After Ball Deflects Off His Leg
Virat Kohli was involved in a brilliant display of selfless cricket and was part of the moment in which he showed a great spirit of the game as Royal Challengers Bangalore (RCB) faced off against Rajasthan Royals (RR) in the Qualifier 2 of the IPL 2022 at the Narendra Modi Stadium in Motera Ahmedabad on May 27, 2022.
RCB had come into this match by decimating the Lucknow Super Giants (LSG) in the Eliminator match on May 25 in Kolkata. Rajat Patidar had scored a century to help RCB make 207/4 in 20 overs, while Josh Hazlewood picked three wickets to keep LSG to 193/6 despite captain KL Rahul's 79-run knock.
Before them, RR lost to Gujarat Titans in the Qualifier 1 as the Hardik Pandya-led side chased down the 189-run total on May 23 in a nonchalant manner, forcing them to play in qualifier 2 for another chance at making it into the finals.
The winner of this RR vs RCB match will play GT in the final of IPL 2022 on May 29 in Ahmedabad.
Jos Buttler's Throw Deflects Off Virat Kohli's Leg; Batter Refuses To Take Advantage Of It In A Great Show Of Spirit Of Cricket
Meanwhile, Virat Kohli and Faf du Plessis opened the innings for RCB, as Sanju Samson won the toss and chose that RR will bowl first on this new pitch at Narendra Modi Stadium. Both the teams came into this critical encounter with unchanged playing XIs.
On the second ball of the first over, bowled by Trent Boult, Kohli played the ball towards square leg and took off for a quick single. Jos Buttler at the fielding position got to the ball and threw it at the non-striker's end.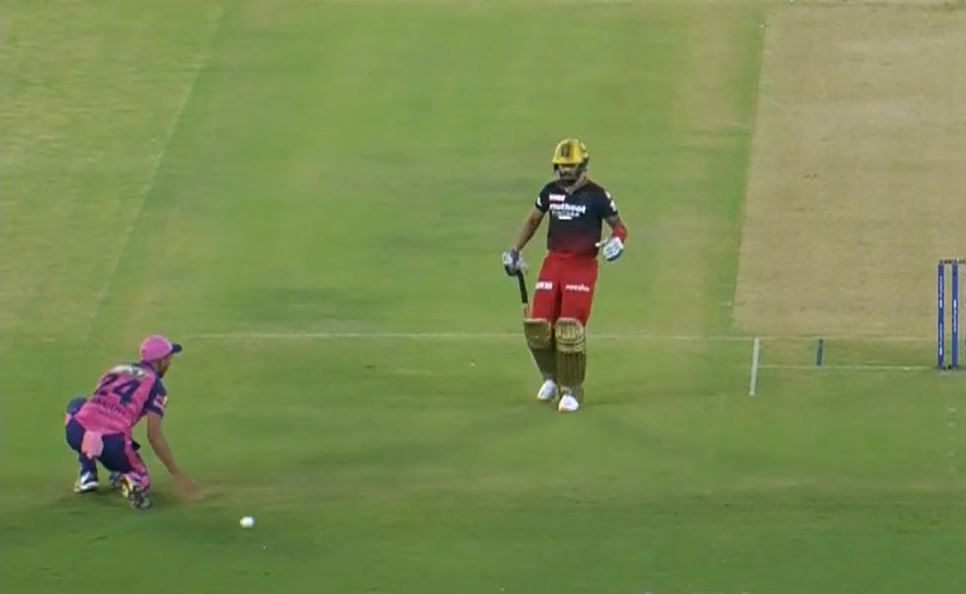 However, Kohli made the crease comfortably and the throw hit Kohli's leg and deflected towards long-off but Kohli decides not to run for overthrows in a great show of spirit of cricket.
Check the video here: