Twitter Reacts As Jonny Bairstow's 136 And Ben Stokes' 75* Helps England Beat NZ In 2nd Test By 5 Wickets
England successfully chased down the 299-run target set by New Zealand on the fifth day of the second Test at Trent Bridge Nottingham, thanks to a brutal 136 from Jonny Bairstow and similarly belligerent 75* from captain Ben Stokes and gained a 2-0 lead in the three-Test series.
England captain Ben Stokes had won the toss and chosen to bowl first but would have regretted his decision as New Zealand went on to pile up 553 runs in their first innings. Daryl Mitchell hit his second straight century in the series, making 190 with 23 fours and 4 sixes, while Tom Blundell made up for the missed ton at Lord's, but making 106 with 14 fours here in Nottingham.
In reply, England were very good in their first outing as Joe Root continued his golden run with the bat, scoring 176 with 26 fours and 1 six, while Ollie Pope hit his first Test century at the new no.3 spot, making 145 with 13 fours and 3 sixes. Apart from these two, Ben Stokes made 46 and Ben Foakes made 56 runs, as England piled 539 in reply.
Trent Boult for New Zealand picked a fifer, while James Anderson had completed his 650 wickets in Tests during this Test match.
Jonny Bairstow Demolishes New Zealand Bowling In Tough Chase Of 299 Runs
New Zealand were aiming to make the most of the slender 14-run lead and Will Young (56), Devon Conway (52), and Daryl Mitchell (62*) did well to conjure runs against a determined England bowling and managed to make 286 runs in their second innings, with a lead of 298 runs to boot for.
When England came out to chase the tough target, Trent Boult hurt them badly by picking wickets of Zak Crawley for 0 and Joe Root for 3, while Tim Southee removed Alex Lees for 44 and Matt Henry got rid of Pope for 18 runs. At 93/4, England was staring down a defeat, but then Jonny Bairstow and Ben Stokes came together.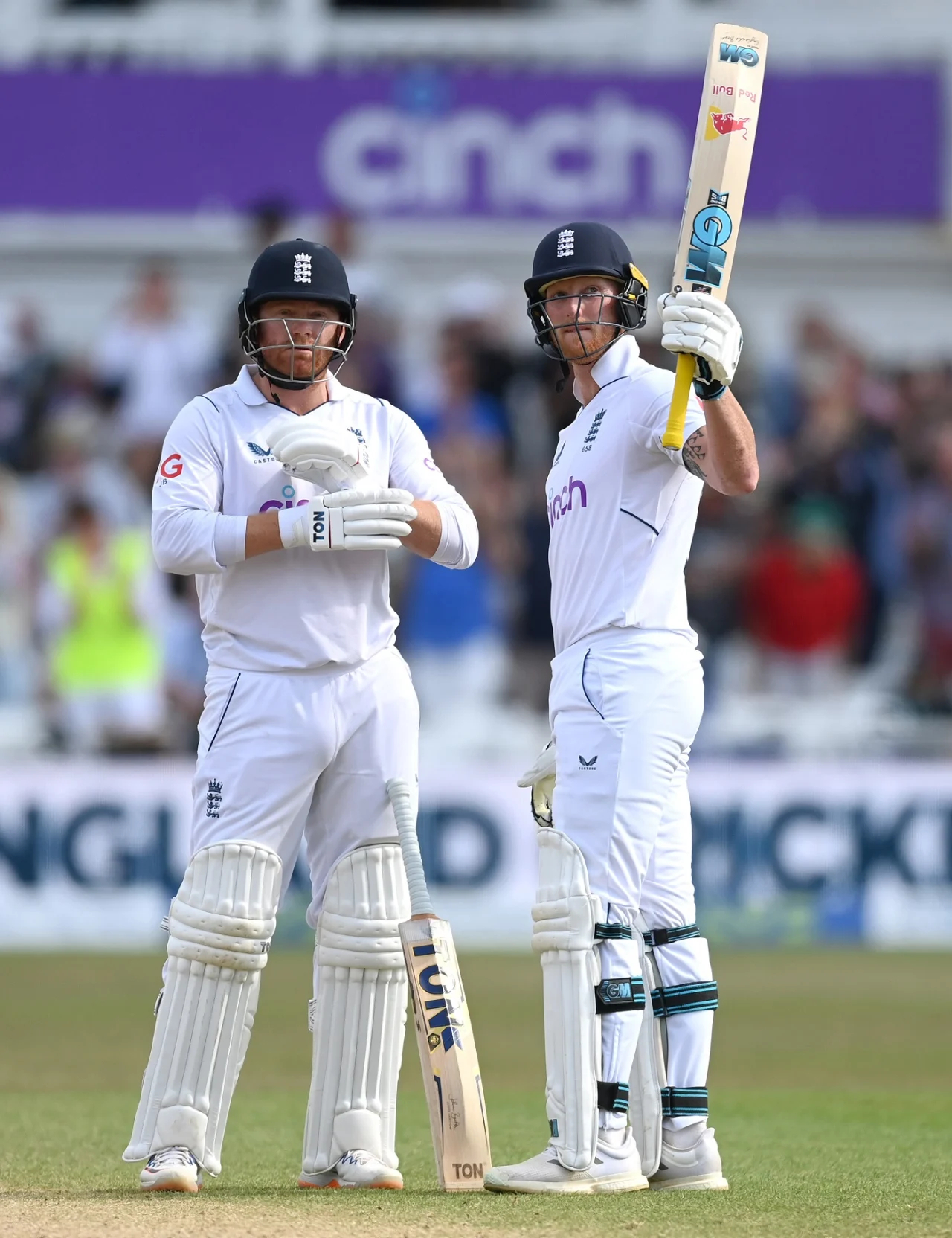 Bairstow slammed 7 sixes and 14 fours in his 136-run knock, before it was ended by Boult, but Stokes played a captain's knock, hitting 75* with 10 fours and 4 sixes as England achieved the target with 5 wickets to spare.
The Twitterverse was elated with England winning the match and going 2-0 up in the three-match series against New Zealand and praised the team, Jonny Bairstow and Stokes on the social media site.
Here's how twitter reacted to England's thumping victory over New Zealand in the 2nd Test:
@jbairstow21 oooh yeees👌 shooting boi👊👊

— Herschelle Gibbs (@hershybru) June 14, 2022
Today, T20 cricket has shown how it has improved Test Match cricket. What a great test match and well done @englandcricket 🏏 #mindset #ENGvNZ

— Robin John Peterson (@robbie13flair) June 14, 2022
What a test match!!!!

— Matthew hoggard (@Hoggy602) June 14, 2022
❤️ Test cricket 🤪 #ENGvsNZ 🗣@AlisonMitchell pic.twitter.com/CCECYTvJ8g

— Isa Guha (@isaguha) June 14, 2022
Jonny Bairstow, an innings of a lifetime, one of the best counter-attacking 4th innings you will ever see.Well done England , Test Cricket is Best Cricket. #ENGvNZ pic.twitter.com/BV5dVzbIqk

— Virender Sehwag (@virendersehwag) June 14, 2022
What a win @englandcricket! Phenomenal 🔥

— Jos Buttler (@josbuttler) June 14, 2022
Loveeeeeeee test match cricket 🏏 #ENGvsNZ #testcricket

— Ryan Sidebottom 🏏 (@RyanSidebottom) June 14, 2022
The only trouble with England's cricketers providing such incredible entertainment for free is how many complaints there will be for a slow day's play at full price….

— Derek Pringle (@derekpringle) June 14, 2022
what an amazing chase by @englandcricket in love with the batting of @root66….brilliant batting Ollie Pop @jbairstow21 @benstokes38 ..Foakes really a good WK batsman 👍🏻👏🏻👏🏻 Hard luck @BLACKCAPS #ENGvNZ

— Kamran Akmal (@KamiAkmal23) June 14, 2022
What a phenomenal test match!! Amazing skill, talent and hard work throughout backed up by an amazing ground yet again @TrentBridge!! One of @englandcricket best wins!!! 🔥🔥 #ENGvsNZ

— James Taylor (@jamestaylor20) June 14, 2022
What a chase #EngvNZ Knock of his life @jbairstow21 Brilliant 👏👏👏

— Russel Arnold (@RusselArnold69) June 14, 2022
Seems like I need to catch the highlights later 👀 JB with what seems to be a serious knock & the skipper backing him up #NewEngland #NewBeginnings #KeyattheWheel 🔥🔥

— Alex Tudor (@alextudorcoach) June 14, 2022
What a game of Test Cricket and an unbelievable 4th innings hundred by @jbairstow21 .
It's amazing to see a packed house at Trent Bridge on Day 5. Hopefully offering cheaper/free tickets is something that continues as the atmosphere has been fantastic to watch on tv. 👏🏻

— Chris Tremlett (@ChrisTremlett33) June 14, 2022
Same energy #EngvNZ pic.twitter.com/i4138OffhU

— Vithushan Ehantharajah (@Vitu_E) June 14, 2022
June 2021: NZ set Eng 273 in 75 overs. Eng bat out a draw scoring 170/3 (70).

June 2022: NZ set Eng 299 in 72 overs. Eng chase it down in 50 overs!

What changed? Mindset. #ENGvNZ pic.twitter.com/zOMbJMB51I

— Wasim Jaffer (@WasimJaffer14) June 14, 2022
One of the greatest ever victories 🙌

LONG LIVE TEST CRICKET.#ENGvNZ pic.twitter.com/kDGD0QunRm

— England's Barmy Army (@TheBarmyArmy) June 14, 2022
This is utterly ridiculous .. Last time I saw this type of drama was in 2019 when Jonny was sat on the balcony watching Ben .. Now Ben has the best seat in the house watching Jonny .. #ENGvNZ

— Michael Vaughan (@MichaelVaughan) June 14, 2022
I mean. Stokes and Bairstow. Bairstow and Stokes. I think these two might actually cure me. #ENGvNZ

— Melinda Farrell (@melindafarrell) June 14, 2022