Tokyo Olympics: Tom Dean takes gold, plus silvers for Duncan Scott and Georgia Taylor-Brown
Swimmer Tom Dean sensationally clinched Team GB's fourth gold of the Tokyo Games on day four of the Olympics as Great Britain secured its best ever start to a Games.
GB claimed six medals on Tuesday, including two silvers and three bronze, to take their tally to 13 overall and put them fifth in the medal table.
It more than doubles Britain's previous best medal haul of six after the first four days, achieved at the 2000, 2008 and 2016 Games.
Dean, 21, who contracted Covid for the second time six months ago, edged out compatriot Duncan Scott into second by 0.04secs in the 200m freestyle swimming,
And Georgia Taylor-Brown fought back from a puncture on the last lap of the bike leg to take triathlon silver.
There was also a first medal in 93 years for GB's women's gymnastics team, who took bronze, as did Bianca Walkden in the taekwondo +67kg, matching her result at Rio 2016.
And Charlotte Dujardin pulled level with rower Katherine Grainger as Britain's most decorated female Olympian, claiming her fifth career medal as Britain's dressage team won bronze.
She can become the first British woman to win gold at three consecutive Games should she retain her individual title on Wednesday.
Simon Gleave, head of sports analysis at Nielsen Gracenote, said: "After four days, the expectation was that Great Britain would have 10 medals – three gold, five silver and two bronze medals.
"The forecast for Great Britain has therefore improved to 55 medals including 15 golds. This is likely to be enough for fifth place on the medal table on both total medals and gold medals."
UK Sport set a medal target of between 45 and 70. Team GB won 65 medals at London 2012, followed by 67 medals in Rio in 2016 – finishing second in the medal table.
'Olympic gold seemed a million miles'
Dean's preparations for Tokyo were badly disrupted by Covid, as he lost more than six weeks of training after contracting the illness twice, leaving him struggling to walk up the stairs.
"When I was sitting in my flat in isolation, an Olympic gold seemed a million miles off," he said.
"I had Covid in September and the new year. The first time wasn't too bad. The second time I wasn't able to train and it was a slow build back into training."
Around 70 of Dean's friends and family gathered in his mum's garden in Maidenhead to watch the race in the early hours, with a video of their celebrations going viral.
His mum Jacquie Hughes told BBC One: "We decided, because we couldn't be there, how nice would it be for Tom to know his family and friends were together watching him.
"We invited some members of the swimming club, some neighbours, and before we knew it there were 70 people in the garden watching on a big screen.
"It was so joyous and full of passion. It was lovely. I spoke to Tom this morning and he said he watched the video over and over again."
Dean's team-mate Scott was favourite going into the final after qualifying fastest, but was beaten to the touch in a tight finish.
The result is Britain's first swimming one-two in 113 years with both men cheered on by Adam Peaty, who successfully defended his 100m breaststroke title on Monday.
Taylor-Brown battles rain, wind and wheel rims to take silver
Taylor-Brown was 22 seconds off the four-strong leading pack going into the run of the triathlon, but she reeled in all her rivals except for Bermuda's Flora Duffy to claim an emotional second-place finish.
It is Britain's second triathlon silver after Alex Yee's success on Monday.
The 27-year-old revealed after the finish she had overcome a stress fracture to her leg to make the start line, passing a late fitness test a week before departing for Tokyo.
"My training had gone so well before then though, so that was a bit of a shock, but I knew I had all of that training in the bag," she said.
"I wanted to keep it private. You don't want to show your competitors your weaknesses."
Her preparations for a race in hot, humid conditions were thrown by Tropical Storm Nepartak which brought high winds and heavy rain to the event.
Then, on the bike leg, she was up with the leaders before a flat rear tyre saw her slip back on the final kilometre of the 40km route.
Afterwards, she said she "panicked" when the incident happened.
"I didn't know what to do, so I just rode out on the flat. It was panic mode but it paid off," she told BBC Sport.
Gold medallist Duffy's success marked a piece of history as Bermuda became the least populous nation ever to win an Olympic gold.
What else has happened?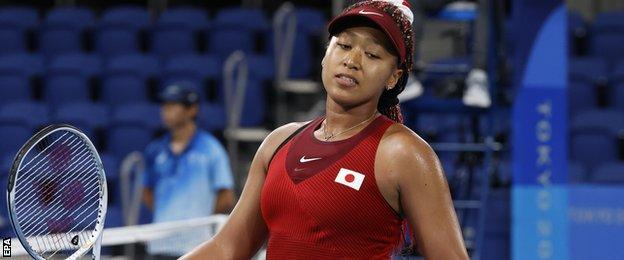 Japan's

Naomi Osaka,

who lit the Olympic flame at the opening ceremony,

lost in the third round to Marketa Vondrousova.

GB's women's footballers finished top of their group after

a 1-1 draw with Canada

to set up a quarter-final against Australia on Friday.

Great Britain men's doubles pair

Andy Murray and Joe Salisbury

are

through to the quarter-finals

and

Liam Broady

reached the third round of the men's singles.

Team GB's men's rugby sevens side progressed to a semi-final against New Zealand in dramatic fashion, recovering from going 21-0 down against the USA to win 26-21.

Britain's

Caroline Dubois

advanced into the last 16 with a comprehensive victory in her opening lightweight contest against Donjeta Sadiku of Kosovo.

Pat McCormack

made it into the last welterweight tournament with a win over Aliaksandr Radzionau of Belarus, but

Cheavon Clarke

suffered a first-round exit.

Great Britain's

Zoe Smith

finished eighth in the final of the women's 59kg weightlifting.

Great Britain's

Kimberley Woods

finished last in the canoe slalom final, after suffering an early penalty in her run.

Great Britain's men's hockey team suffered a sobering 5-1 defeat against Germany, denting a campaign that had begun with wins over South Africa and Canada.

Britain's

Kathleen Dawson

finished sixth in the 100m backstroke, while Freya Anderson missed out on qualifying for the 200m freestyle.

Britain's

Evie Richards

finished seventh in the women's cross-country mountain biking