Quinton De Kock Explains His Retirement Announcement From Test cricket
Quinton De Kock announced his retirement from Test cricket at the end of the first Test against India, which the Proteas defeated by 113 runs at SuperSport Park on Thursday. He is only 29 years old and has played 54 Tests.
Many predicted he would go on to become the most successful keeper-batter in Test cricket history. De Kock, on the other hand, said goodbye to the format to spend more time with his young family.
De Kock made the news just days before the birth of his first child, a baby girl called Kiara. The dasher indicated at the time that he wanted to spend more time with his family.
When De Kock announced his retirement, he said, "This has not been an easy decision for me to make. I've spent a lot of time thinking about my future and what needs to take precedence in my life now that Sasha and I are ready to welcome our first child into the world and plan to expand our family."
"My family means the world to me, and I want to be able to spend as much time as possible with them as we embark on this new and exciting chapter of our life " De Kock.
It was a schoolboy's dream to play 100 Tests: Quinton De Kock
De Kock recognized that his decision was difficult, but he put his mind up and will not reconsider. Even yet, the veteran cricketer stated that his passion for Test matches has not waned and that he continues to follow South Africa's missions in their purest form.
"Everyone was taken aback. But I made a decision and will not change my mind now. It's just the way it is. That doesn't change the fact that I still enjoy the game. I'm still keeping an eye on the lads. There's still a lot to look forward to in the Bangladesh and India series, but I've decided to part ways. I keep my arguments to myself." De Kock was cited as saying, "It's between me and my family."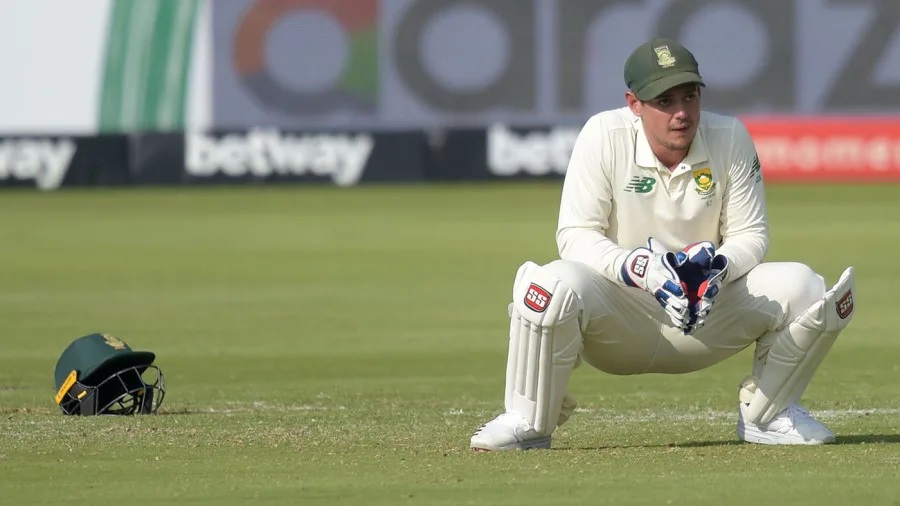 "I don't know about a hundred Tests since South Africa only played around six Tests a year, and I don't think I was going to play Test cricket for another ten years." My body probably wouldn't have let it. "Playing 100 Tests was a childhood ambition of mine, but I've got to face reality and stop thinking like a child," De Kock said.
Quinton De Kock, who made his Test debut in February 2014, has played 54 games in the purest format and has a strike rate of slightly under 39. Furthermore, he had a strike rate of above 70 percent and six centuries in test cricket.
Also Read:  'Everyone Said MS Dhoni Won 2011 World Cup. Were The Other Players Having Lassi?': Harbhajan Singh