IPL 2022: Some Variety In Umran Malik's Skills Will Take Him A Long Way Forward – Dale Steyn
Sunrisers Hyderabad (SRH) bowling coach Dale Steyn said Umran Malik's potential and skills will take him a long war forward. Malik's journey to Sunrisers Hyderabad (SRH) started as a net bowler in IPL 2021, thanks to his close friend Abdul Samad, who was already with the team for more than one season.
Malik got his unexpected opportunity to wear the orange colours in IPL when left-arm pacer T Natarajan tested positive for COVID-19 in the second phase of IPL 2021. The Jammu and Kashmir pace bowler played just three games last season but that was enough for the prodigious talent to make his case.
Will Umran Malik's sensational pace become batsmen's nightmare?
He clocked 152.95 kph deliver against Royal Challengers Bangalore (RCB), the fastest delivery of IPL 2021. Bowling above 150 has been regular for Malik like he did in the recent encounter against Gujarat Titans. He bettered his IPL 2021 record as he bowled at 153.3 kph with the other four fastest balls in that game were also bowled by the J & K pacer, his speeds read – 151.2, 150.1, 149.9, 149.3.
Malik has been consistent with his searing pace and that creates a terror in the batter's mind. In his first ball of the spell against Gujarat Titans, Malik almost knocked Hardik Pandya with a brute bouncer that clonked the helmet of the skipper. Malik didn't stop there and rushed in with a thunderbolt to hit on Matthew Wade's pads before the wickets.
Umran Malik will feature heavily in the future: Dale Steyn
While doing a question and answer session with his Twitter followers on Thursday (April 14), Steyn was asked by one of the users: "who do you think will be best fast bowler currently and may be next 5 years ?"
The SRH bowling coach responded: "Umran Malik will feature heavily in the future, as will Marco Jansen from an all-rounder point of view. (Sunrisers specific)."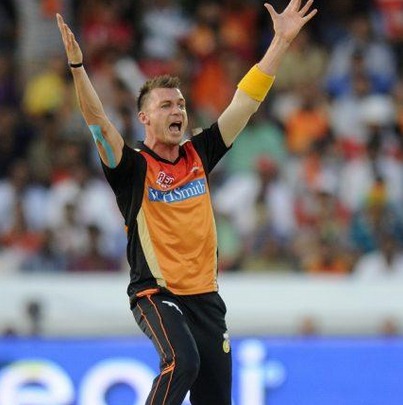 "Never lose pace. Anyone can bowl 130/135. But yes, some variety in his skills will take him a long way forward," Steyn responded to another user's query on his suggestion to Malik during their training session.
Malik was retained by Sunrisers Hyderabad (SRH) along with skipper Kane Williamson and Abdul Samad.
Also Read: SRH vs GT: Former England Skipper Wants Umran Malik To Play County Cricket